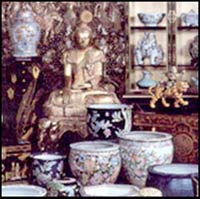 Oriental Furniture was founded in 1985 in Framingham, Massachusetts. For over 20 years Oriental Furniture has provided New England with an outstanding selection of fine Asian furnishings. All of our merchandise is hand picked and directly imported by us to reduce costs and handling and provide superior service to our clients.
Directions
Frequently Asked Questions (FAQ)
Shipping Information
Our furnishings originate from all over the far east, including China, Hong Kong, Korea, Thailand, Taiwan, Indonesia and India. Our collection includes:
Hand carved Jade
Korean Elmwood furniture,
Indonesian teak,
Shoji screens and Lamps
Hand lacquered furniture in assorted colors.
Solid Rosewood furniture,
Thailand Bronzes,
Chinese antiques,
Classic porcelain
Oriental Unlimited, Inc., 68 Moulton Street, Cambridge, MA 02138
Phone: 1 800 978 2100, 617 441 3400, Fax: 617 441 5192
Email: comments@orientalhome.com
© 2003-2006, Oriental Unlimited, Inc. All rights reserved.

Oriental home sells oriental furniture, shoji screens, tables, sofas, porcelain, teak furniture, rosewood, lacquer furniture, Chinese, Japanese and Asian antiques, and Korean home furnishings. Buy oriental furniture online, or at the showroom in Natick, Massachusetts.